Business Services
Fix-It 24/7
---
Headquarters
Golden, Colo.
Revenue Growth
98% CAGR (over the two years prior to closing)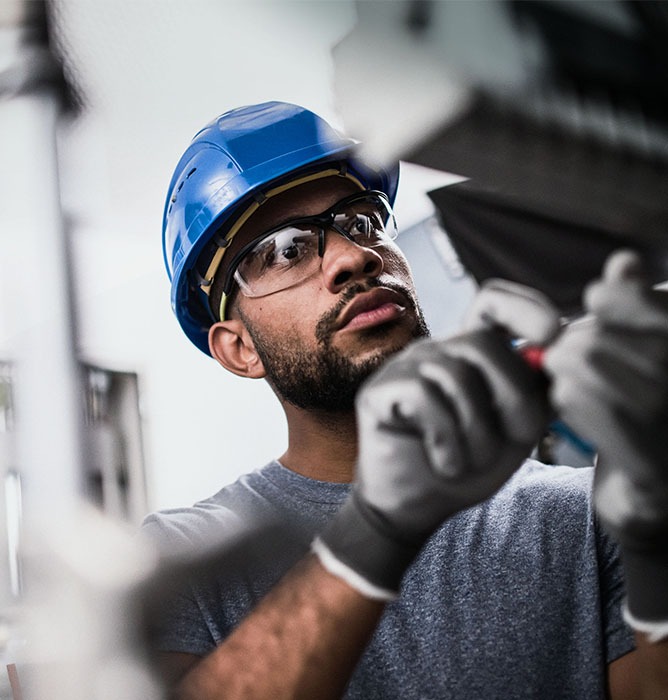 New Harbor identified the home services industry as an attractive area to pursue our technology-enabled services investment thesis. We believe the home services sector is highly fragmented with an estimated 80% of the U.S. market comprised of operators with fewer than 10 employees. The sector is generally characterized by steady and stable growth, supported by non-discretionary, break-fix consumer demand drivers. In addition, we believe technology innovation within the home is accelerating the need for home services, with complex smart homes and energy efficient systems replacing legacy installs. As a result, the home services industry presents a significant opportunity to gain scale advantages through operational sophistication as well as technology and systems deployment to provide a better customer and employee experience. We believe Fix-It 24/7, a provider of home maintenance, repair, and replacement services, was positioned to deploy these tools.
"From the first encounter it was obvious our organizations shared similar values as well as a growth-oriented mindset. New Harbor's depth of experience working with owner-operators, their track record of successfully accelerating growth, and their focus on building quality businesses were critical factors in our evaluation, and we are excited to have them as our partner."

George Donaldson

Fix-It, CEO

*
Fix-It represents a differentiated opportunity for New Harbor to partner with a seasoned owner-operator, George Donaldson, who has enjoyed a successful career scaling multiple home services businesses. George purchased Fix-It as a small business in 2017 and over the subsequent years rapidly scaled the business, transforming the Company into a leading brand in its market. At the time of New Harbor's investment, Fix-It 24/7, through a 40-person field staff, was serving the Denver market with significant near-term growth plans both within and beyond its current market.
The Company's Investment Management plan focused on deploying technological and operational sophistication with excellence while rapidly scaling the Company to a leading regional provider of home services. Key initiatives included system implementation to provide more insightful and real-time KPIs to Management and field staff, formalization of field staff recruiting and training – including an in-house certification program, targeted marketing strategies, and corporate organization build out to support an expanded geographical footprint. Beyond organic initiatives, the plan was to accelerate growth through acquisitions of high quality and reputable brands; notably, the Company closed on its first acquisition within two months of New Harbor's initial investment.
We believe Fix-It has positioned itself as a market leader in the highly attractive and growing Denver market. Management's successful deployment of ongoing operational initiatives will benefit the business as it continues to scale and execute on a consolidation strategy both locally and in new markets.
*Certain statements about New Harbor Capital made by portfolio company executives herein are intended to illustrate New Harbor Capital's business relationship with such persons, including with respect to New Harbor Capital's facilities as a business partner, rather than New Harbor Capital's capabilities or expertise with respect to investment advisory services. Portfolio company executives were not compensated in connection with their participation, although they generally receive compensation and investment opportunities in connection with their portfolio company roles, and in certain cases are also owners of portfolio company securities and/or investors in New Harbor Capital-sponsored vehicles. Such compensation and investments subject participants to potential conflicts of interest in making the statements herein.
See More

Investment Stories

Like This

Business Services
Tech-enabled provider of essential business services ("EBS"), including FinOps (CFO services, bookkeeping and accounting), PeopleOps (human resources, benefits, recruiting and payroll), and Risk (business insurance).